Change is an inevitable reality. It can be slow, taking generations, or it can come in the form of instant revolution. Spearheading this change have been people that said "No" against the tide of anachronistic dogma, people that never let their spirit die in the face of violence and fear, and those that remind us of the high price we pay for hate and ignorance in the modern day. I chose to memorialize a few notable figures that are the touchstones of our grief, growth, and grace as a people.
(All pieces are Charcoal and Chalk, 2017)
Frances Power Cobbe
Frances Power Cobbe (1822-1904) was an Irish writer, social reformer, anti-vivisection activist, and leading women's suffrage campaigner. Cobbe published several articles on the legal rights of women in marriage. A pamphlet, Wife Torture, which proposed that wife assault should be made grounds for a legal separation, and this influenced the Matrimonial Causes Act of 1878 which gave a wife the right to a separation with maintenance, and with custody of any child under ten years of age. In 1870 she advocated strengthening the law on experiments on animals, and over the next few years became one of the leaders of the British anti-vivesection movement. It has been argued that there may have "been an identification on her part between man's brutality to animals and his brutality to women." She was buried in Llanelltyd churchyard, alongside her beloved partner Mary Lloyd who had died in 1896.
Marie Curie
Marie Skłodowska Curie (1867-1934) was a chemist who conducted pioneering research on radioactivity. She was the first woman to win a Nobel Prize, the first person and only woman to win twice, the only person to win a Nobel Prize in two different sciences, and was part of the Curie family legacy of five Nobel Prizes. She was also the first woman to become a professor at the University of Paris, and in 1995 became the first woman to be entombed on her own merits in the Panthéon in Paris.
George Washington Carver
George Washington Carver (186?-1943) was an African-American botanist and inventor. After earning his master's degree in agriculture from Iowa State College in 1896, he headed the agricultural department at Booker T. Washington's all-black Tuskegee Institute for nearly 20 years. Carver's research and innovative educational programs were aimed at inducing farmers to replace expensive commodities, and he developed a variety of uses for crops such as cow peas, sweet potatoes and peanuts. From 1935 on he was the constant companion of young Austin Wingate Curtis Jr., a Cornell graduate in chemistry. The two men lived as partners until Carver's death, Carver leaving all of his assets to Curtis .
Simone de Beauvoir
Simone de Beauvoir (1908-1986) was a French philosopher and member of the French Resistance during WW2, outspoken critic of the Vietnam War, and she laid the foundation for the modern feminist movement. De Beauvoir's first major published work was the 1943 novel She Came to Stay, which used the real-life love triangle between De Beauvoir, Jean-Paul Sartre and a student named Olga Kosakiewicz to examine existential ideals, specifically the complexity of relationships and the issue of a person's conscience as related to "the other." The Second Sex (1949) is De Beauvoir's nearly 1000-page critique of patriarchy and the second-rate status granted to women throughout history. Now reckoned as one of the most important and earliest works of feminism, at the time of its publication The Second Sex was received with great controversy, with some critics characterizing the book as pornography and the Vatican placing the work on the church's list of forbidden texts.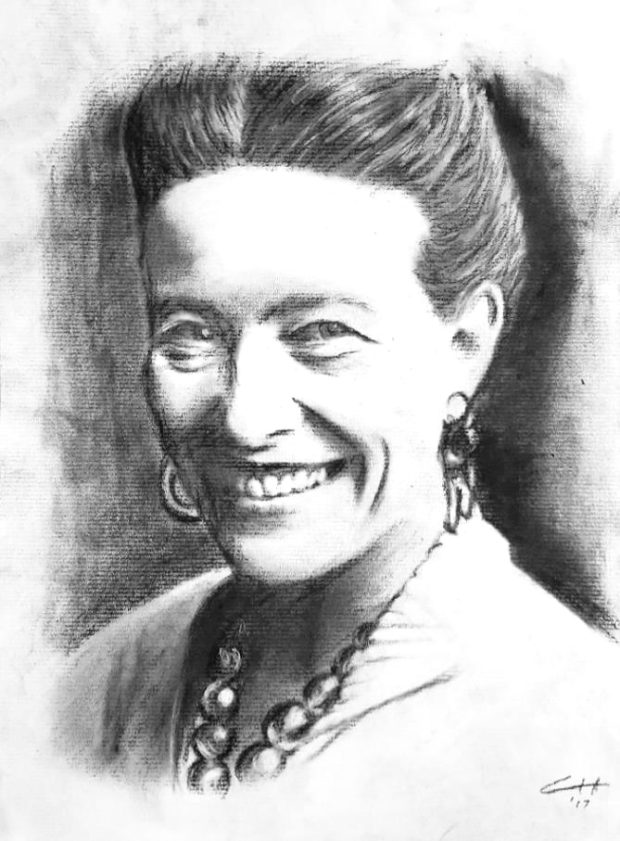 Simone de Beauvoir
Alan Turing
Alan Turing (1912-1954) was an English computer scientist, mathematician, logician, cryptanalyst, philosopher and theoretical biologist. In 1936, Turing published a paper that is now recognised as the foundation of computer science. Ten years later he would turn this revolutionary idea into a practical plan for an electronic computer, capable of running any program. After two years at Princeton, developing ideas about secret ciphers, Turing returned to Britain and joined the government's code-breaking department, where he rapidly developed a new machine (the 'Bombe') capable of breaking German coded messages on an industrial scale. This invention helped win World War II, and he subsequently developed what would become the modern computer. All male homosexual activity was illegal until 1967, and Turing was prosecuted when an affair with a young man came to the notice of the police. Rather than go to prison he accepted probation on the condition of having hormonal treatment which was, in effect, a chemical castration. His security clearance was revoked, ending ongoing work with the government code-breaking department – now called GCHQ (Government Communications Headquarters). He was harassed by police surveillance until he was found dead in bed by his cleaner. He had died from suicide by cyanide poisoning the day before. Despite many appeals over the deacdes, he was not granted a posthumous pardon until 2013.
Bette Davis
Bette Davis (1908-1989) was an award-winning actress that stood for the respect of women and advancement of equality in the workplace. She is also an iconic feminist, expressed by some of her famous quotes:
"Hollywood always wanted me to be pretty, but I fought for realism."
"When a man gives his opinion, he's a man. When a woman gives her opinion, she's a bitch."

Hedy Lamarr
Hedy Lamarr (1914-2000) was an Austrian and American film actress and inventor that invented the underlying technologies behind bluetooth, Wi-Fi, and CDMA while pioneering radio guidance systems for torpedoes. The international beauty icon, along with co-inventor George Anthiel, developed a "Secret Communications System" to help combat the Nazis in World War II. Lamarr and Anthiel received a patent in 1941, but the enormous significance of their invention was not realized until decades later. It was first implemented on naval ships during the Cuban Missile Crisis and subsequently emerged in numerous military applications. But most importantly, the "spread spectrum" technology that Lamarr helped to invent would galvanize the digital communications boom, forming the technical backbone that makes cellular phones, fax machines and other wireless operations possible.
Christine Jorgensen
Christine Jorgensen (1926-1989) was a WW2 Veteran and American trans woman who was the first person to become widely known in the United States for having sex reassignment surgery. Jorgensen's very public transformation from a man to a woman launched a national discussion about gender identity, and her story stood as an inspiring example to others that suffered from that same feeling about gender dysphoria.
Rosa Parks
Rosa Parks (1913-2005) refused to surrender her seat to a white passenger on a segregated Montgomery, Alabama bus, which spurred on the 381-day Montgomery Bus Boycott that helped launch nationwide efforts to end segregation of public facilities. The city of Montgomery had no choice but to lift the law requiring segregation on public buses. Rosa Parks received many accolades during her lifetime, including the NAACP's highest award.
Brandon Teena
Brandon Teena (1972-1993) was a trans man that was murdered by two former friends after they discovered his biological sex. Teena and his story have been at the center of academic and public debates concerning gender and sexuality rights. Transgender advocates and scholars claim his embodied experiences as indicative of the continuing struggles of lesbian, gay, bisexual, transgender, and queer (LGBTQ) communities. His story was the subject of the Hillary Swank film "Boys Don't Cry".
Teresa Butz
Teresa Butz (1969-2009) made the ultimate sacrifice for her partner during a nightmare come true. In 2009, Butz and her partner were awakened in the middle of the night to see a naked man standing at the foot of their bed holding a butcher knife. For 90 minutes the women were raped and stabbed. When Butz saw that her partner was losing massive amounts of blood and growing weak, Butz tackled the maniac, allowing her partner to run from the room. Butz then hurled a nightstand through a window and dove out of it. She bled to death on the street, while her killer ran from their Seattle home. Butz's partner survived — she was there when Butz's mentally disturbed killer, Isaiah Kalebu, was convicted of aggravated murder, attempted murder, rape, and burglary.
Torill Hansen and Hege Dalen
Torill Hansen and Hege Dalen: In July 2011, white supremacist and fascist Anders Breivik set off a bomb in Oslo (killing 8), then went to the secluded island campground of Utøya. Disguised as a police officer, he opened fire, killing 69 people in the course of an hour long rampage. Torill and her partner Hege were camping across the river from the shooting having dinner. Upon hearing the gunfire they took their boat headlong into the assault, and over the course of four trips rescued 40 teenagers. Their boat sustained heavy damage from gunfire, but they kept going back until their was no one left to save.
Anousheh Ansari
Anousheh Ansari (1966-Present) is an Iranian-American engineer and co-founder and chairwoman of Prodea Systems. She is also the former CEO of Telecom Technologies, Inc. and in 2006, the first female Muslim Astronaut.

Malala Youfsazi
Malala Youfsazi (1997-Present) defied the Taliban in Pakistan and demanded that girls be allowed to receive an education. She started blogging for the BBC under an assumed name, reporting back on the conditions of living under the Taliban regime. She was shot in the head by a Taliban gunman in 2012 as a result. She survived and has continued to speak out on the importance of education. In 2013, she gave a speech to the United Nations and published her first book, I Am Malala. In 2014, she won the Nobel Peace Prize (the youngest to ever do so).